Do you want to know the best places to practice extreme sports? So, you came to the right place. Keep reading and discover our selection of the 8 best destinations for water sports around the world. If you want to discover for yourself the importance of traveling, go ahead and discover these destinations full of excitement and adrenaline. You will surely love them. Meet them!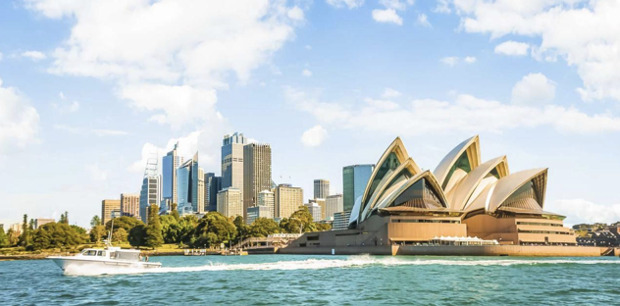 1. Sydney, Australia
Sydney is not only a popular student city, but also one of the best destinations for water sports because of the famous Manly Beach. With 2km with turquoise blue water and golden sand, it has become a paradise for lovers of surfing and outdoor sports. Why? Because here you can find waves of more than 5m perfect height to improve your skills.
Oh, but Sydney is just one of the best cities in Australia for water sports. The Gold Coast is also a destination where you can unleash your adventurous spirit! Also, if you are interested, you can build a career following your passion in water sports.
2. Fernando de Noronha, Brazil
Located in the heart of Brazil, this archipelago is one of the best places for diving in the world, since underwater you can run into all kinds of animals: turtles, dolphins and fish of all colors. Don't forget your snorkel and underwater camera! If you want to see dolphins and whales on their natural habitat, then you should try long beach whale watching.
3.Barcelona, Spain
If you are a lover of paddle surfing, Barcelona is one of the areas to practice water sports that you will like the most. In this city you can find many beaches where you can practice this sport. However, Nova Mar Bella, with its crystal clear water and soft wind, is one of the best destinations for water sports.
Without a doubt, this is a destination that we recommend you with your eyes closed if you are a lover of physical activity. In addition to having a lot of fun, you have the possibility of becoming a sports professional.
With this professional training course, you can learn everything about recreation and fitness. This way, you can study, keep fit and earn money at the same time. Don't you think it's great? Go ahead, click and request your budget to travel and live in Spain!
4. Auckland, New Zealand
For years, New Zealand has been considered a mecca for extreme sports, making Auckland one of the best destinations for water sports. Here you can conquer the highest waves. And if you want to raise your adrenaline, take advantage of the wind, get on your board and practice windsurfing or kitesurfing.
As well as being one of the best places in the world for water sports, Auckland is a city full of excellent study and work opportunities. For that reason, if you want to study abroad, CatEight Course Application comes in handy. With it, you can search for courses provided by educational institutions across New Zealand, and submit your course application online.
Also, if you already want to go live in New Zealand for a long time, you can download this free guide to Study and work in New Zealand with tips for living in the Kiwi country. Start shaping your dreams!
5. Miami, United States
Miami is another must-see destination for water sports for a reason: the Everglades. Considered the most tropical area in the United States, here you can practice kayaking and stand-up paddle boarding, or sit in a boat fishing until sunset. Afterward, you can pitch your tent and build a cozy campfire.
6.Vancouver, Canada
Another of the best destinations for water sports, especially if you are a lover of cold-water diving, is Vancouver. Some of the most popular areas where you can dive are Deep Cove and the Sunshine Coast. There you can see the amazing red coral, giant octopus, wolf eels and very creepy ships.
In addition to finding great places to do water sports, in Vancouver you can also find excellent institutes and academies. The study opportunities in this Canadian city are recognized worldwide. Therefore, if you plan to come, you cannot miss them.
7.Kackar, Turkey
Kackar is another of the best cities for extreme water sports thanks to the Coruh River. This river, with a fast and rough current, is the ideal destination if you want to get in touch with nature and go rafting. Along the way, in addition to getting drenched, you'll see bears, goats, and ruins older than dinosaurs.
8. Paros, Greece
This Mediterranean island is another of the ideal destinations for water sports; Not surprisingly, it has hosted the Windsurfing World Cup on several occasions. In addition to windsurfing, if you want to enjoy the unique landscape of this island from above, parasailing is becoming one of the most popular water activities.
Now that you know the best destinations for water sports, you have no excuses for staying at home watching series on your next vacation. This is your chance to build great memories and see, once again, why traveling makes you happy!
So dare to defy danger and get out of your comfort zone, because you only live once. What are you waiting for to pack your bags? Go out to explore the world alone or accompanied and fill yourself with life.