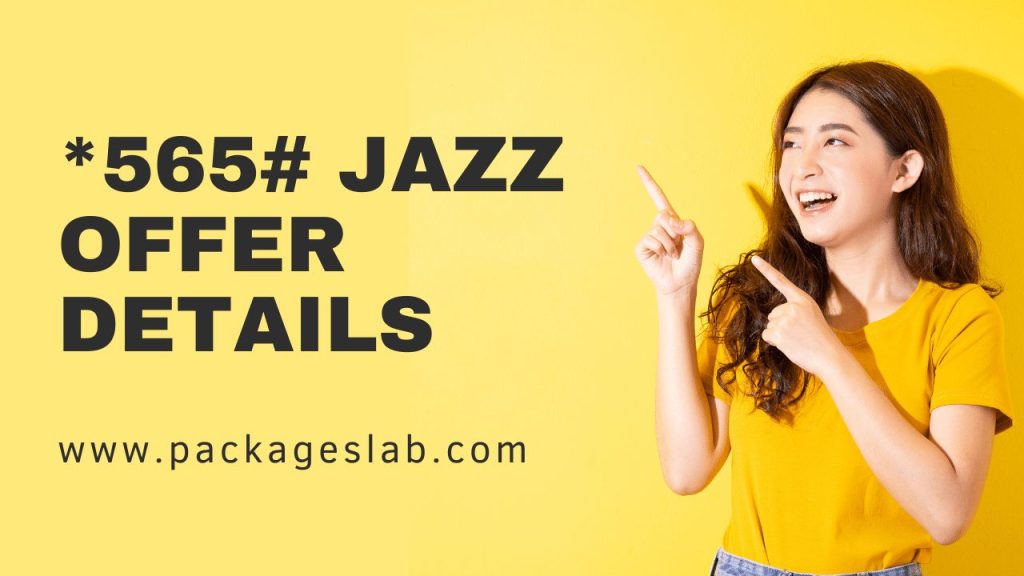 With a reputation for innovative telecom solutions, Jazz is always at the forefront of satisfying its customers' communication needs. The *565# Jazz offer is yet another powerful testament to Jazz's commitment to providing superior value. In this article, our team of telecom experts delve into the features and benefits of the *565# Jazz offer details, addressing frequently asked questions and helping you maximize your experience with Jazz.
*565# Jazz Offer Details – An Overview
| | |
| --- | --- |
| Price | RS. 70 Incl. Tax |
| On-net Minutes | 2500 minutes |
| Off-net Minutes | 25 minutes |
| SMS | 2500 |
| Internet | 2.5 GB |
| Duration | 7 Days |
| To Subscribe | Dial *565# |
| To Check Status | Dial *565*2# |
| To Info | Dial *565*3# |
| To Un-Subscribe | Dial *565*4# |
If you're searching for an economical solution to your diverse communication needs, you'd be hard-pressed to find a better option than the *565# Jazz offer. This bundle encapsulates Jazz's robust network, offering prepaid subscribers unprecedented access to voice, data, and SMS services. It's not just an offer; it's a gateway to uninterrupted connectivity!
How to Activate the 565# Jazz Offer?
Activating the *565# Jazz offer is straightforward. Dial *565# from your Jazz number, and follow the instructions. Remember to ensure you have enough balance to subscribe to the offer. From the moment of subscription, you are free to start enjoying your *565# Jazz bundle.
Features of the 565# Jazz Offer
Designed to meet the modern user's digital lifestyle, the *565# Jazz offer combines impressive internet data, ample voice minutes, and generous SMS allocation. Enjoy fast 4G data for browsing, streaming, or working online. You also get to connect with loved ones using voice minutes and text messages. The *565# Jazz offer truly brings the best of Jazz's services to your fingertips.
Jazz 4G Offers: What Makes 565# Special?
While Jazz offers a range of 4G packages, the *565# bundle stands out for its well-rounded combination of services. It doesn't restrict you to data alone but extends to voice and SMS benefits, providing a comprehensive solution for all your communication needs. If you're an all-rounder in the digital world, this is the offer for you.
Jazz Offer Validity Period
The *565# Jazz offer has a flexible validity period, catering to different users' needs. Choose from daily, weekly, or monthly validity based on your communication requirements. Stay connected with a validity period that suits your lifestyle!
Terms and Conditions of the 565# Jazz Offer
Like all telecom services, the *565# Jazz offer details comes with terms and conditions designed to ensure fair usage and maintain quality service. Remember to read through them carefully while subscribing to avoid any inconvenience later.
Jazz Subscription Details and Balance Check
Keeping track of your Jazz offer subscription is simple with Jazz's customer-friendly systems. You can easily check your remaining balance by dialing a dedicated code. No more uncertainty about data usage or remaining voice minutes – Jazz provides transparent tracking for your convenience.
Customizable Jazz Monthly Packages
One of the major attractions of the *565# Jazz offer details is its flexible subscription plans. Jazz offers various monthly packages that allow you to customize your usage based on your communication needs. Choose from an array of data plans, voice bundles, and SMS packages, ensuring that you get the most value for your money.
Jazz Voice Bundles in the 565# Jazz Offer
With Jazz's voice bundles, you never have to worry about losing touch with your loved ones. The *565# Jazz offer provides generous call minutes, letting you make calls to all networks without any restrictions. Jazz voice bundles, renowned for their high quality and clarity, make it easy to stay connected at all times.
The Power of Jazz Data Plans
Jazz data plans are perfect for the modern, digitally connected user. Whether you want to browse the internet, stream videos, or work remotely, the *565# Jazz offer provides high-speed 4G data for all your needs. Experience fast, uninterrupted internet with Jazz's reliable network coverage.
SMS Bundles in the 565# Jazz Offer
Not a big fan of calls or data? Prefer traditional text messaging? The *565# Jazz offer has got you covered! The SMS bundles included in this offer allow you to send a substantial number of text messages to all local networks. Keep your conversations going without any worries!
The Versatility of Jazz Weekly Offers
For those who find monthly subscriptions too long, the *565# Jazz offer also comes in a weekly format. Jazz's weekly offers provide you with a sizeable chunk of data, voice minutes, and SMS services that are valid for seven days. Enjoy the flexibility of short-term plans with the same extensive benefits.
Enjoy the Longevity of Jazz Postpaid Plans
For users who prefer a worry-free, longer-term solution, Jazz postpaid plans offer the perfect option. Enjoy the extended benefits of the *565# Jazz offer with Jazz's postpaid plans, which are designed for those who desire comprehensive, month-long connectivity solutions.
Jazz SIM Offers: Additional Perks
As part of its customer-centric approach, Jazz often includes special SIM offers for its users. These might range from bonus data upon purchasing a new SIM to special discounts on package subscriptions. Keep an eye on Jazz's official platforms for such exciting offers!
Jazz Activation Codes – Simplifying Your Digital Life
One of the key highlights of Jazz's customer service is its straightforward activation process. The *565# Jazz offer is no exception. With a single dial, you can activate your desired package and begin enjoying the perks. This simple code system makes it easy to activate, deactivate, or check the status of your subscription, keeping you in control of your digital experience.
Perks of Jazz Prepaid Offers
Jazz prepaid offers, including the *565# Jazz offer, offer the ultimate convenience for customers. With prepaid, you have the freedom to manage your telecom expenses, use services as per your need, and avoid any unwanted surprises in your bill. You're only charged for what you use, ensuring complete transparency.
Jazz's Unbeatable Network Coverage
Perhaps one of the most compelling reasons to choose Jazz's *565# offer is the brand's unparalleled network coverage. Jazz's extensive network spans across the country, ensuring a stable and high-speed connection wherever you are. Experience seamless connectivity indoors, outdoors, in urban locales or remote areas, thanks to Jazz's robust network infrastructure.
Jazz: A Brand Synonymous with Trust
With years of service and millions of satisfied customers, Jazz has built a reputation of trust and reliability. The *565# Jazz offer is backed by this legacy, promising top-notch quality and exceptional service. When you choose Jazz, you're not just choosing a telecom offer; you're choosing a trusted partner in your digital journey.
Round-the-Clock Customer Support
Need help with your *565# Jazz offer subscription? Have questions about your usage? Jazz's 24/7 customer support is here to assist you. With various support channels like helpline, website, and social media, you're never far from help when you need it.
Jazz in the Future: Exciting Developments
As a forward-thinking telecom provider, Jazz is continually innovating to enhance its services. Be it the launch of new packages, network enhancements, or digital solutions, Jazz customers have a lot to look forward to. Stay tuned to Jazz's official platforms to catch the latest updates.
Frequently Asked Questions
What are the current jazz offers available?
Apart from *565# Jazz offer, Jazz offers a multitude of prepaid and postpaid plans, including voice bundles, data plans, and SMS packages.
Can I use the Jazz offer for international calls?
Specifics may vary with each offer. Always check the terms and conditions or contact Jazz customer service for accurate information.
Are there any discounts available on the Jazz offer?
Jazz occasionally runs promotional campaigns. It's always a good idea to check Jazz's official website or social media platforms for the latest deals and discounts.
How can I subscribe to jazz offers through the Jazz website?
Visit the Jazz website and navigate to the offers section. Select the desired offer, enter your Jazz number, and follow the instructions.
Can I transfer my Jazz offer to another Jazz number?
Offer transfers are generally not supported. However, specific packages might allow it. It's best to confirm with Jazz customer service.
Also Read: Zong Punjab Offer Monthly: Zong 5G Internet, Call and SMS Packages 2023
Final Thoughts
In an era where staying connected is more important than ever, Jazz's *565# offer presents a comprehensive solution that caters to your voice, data, and SMS needs. With its affordable rates, flexible options, and backed by a brand synonymous with trust, it is a package worth considering. We hope our expert guide has helped you understand the *565# Jazz offer details better.
Remember, at Telecom Digest, our team of experts is dedicated to keeping you informed and updated about the telecom landscape. Count on us for accurate, comprehensive, and timely information that you can trust. For any more queries or updates on Jazz offers and other telecom news, stay connected with Telecom Digest – your reliable guide in the telecommunication world.