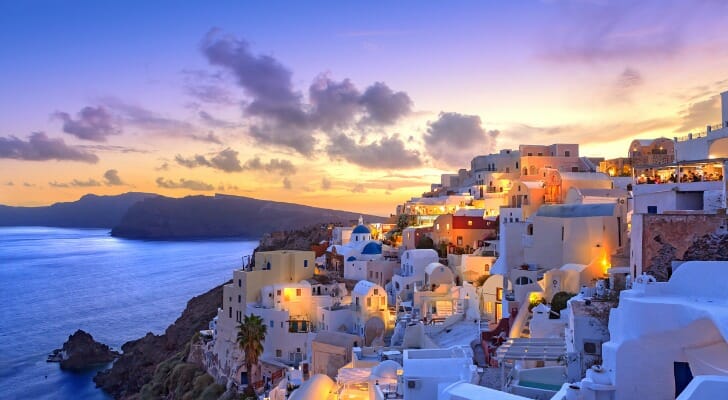 If you are thinking about moving to Greece, you should thoroughly examine your visa and residence options. There are several options for moving overseas, and you want to choose the one that best matches your circumstances.
-Citizens of Other European Union Member Countries
If you are already a citizen of one of the 27 European Union (E.U.) member nations, you can lawfully reside and work in Greece. The United Kingdom left the European Union in 2020 and is currently considered a non-EU country.
-Citizens of countries outside the European Union (Including the U.S., Australia, and the U.K)
Greece Short-Term Residency
If you are a US, UK, or Australian citizen, you can visit Greece for 90 days without a special visa as of 2020, subject to the COVID-19 travel limitations. Other non-EU countries, although not all, share this status. If so, you are permitted to stay in Greece for 90 days out of every 180. After that, you must leave Greece and the Schengen Area for 90 days before returning.
The Schengen Zone is a network of European nations that permit passport-free travel. The Greek visa-free regulations require you to depart the whole Schengen Zone for the duration of your stay in Greece. For example, you cannot reside in Athens for 90 days, and then travel to Paris for 90 days before returning to Athens. You can, however, reside in Athens for 90 days, then travel to London for 90 days before returning to Athens. Why? Because France is a member of the Schengen Zone, whereas the United Kingdom is not. If you're seeking slightly nomadic, visa-free choices, get to know the Schengen Zone nations.
Permanent Residency in Greece
If you are from a nation outside the EU and want Greece residency for a long time, you will require a residence permit. It is vital to clarify that "non-EU citizenship" is a permission category, and nationality is irrelevant. Citizens from the United States, Nigeria, Canada, Malaysia, Egypt, and Afghanistan, for example, are all grouped together.
Buying real estate in Greece, qualifying for an independent financial means visa, qualifying for a student visa, proving Greek ancestry, marriage to a Greek citizen or an E.U. citizen living in Greece, starting a business in Greece, and being sponsored for a job in Greece are all legal ways to move to Greece.
Almost all visa choices involve an FBI background check, evidence of health insurance that will cover you in Greece, and proof that you do not have any contagious medical illnesses.
The Golden Visa for Real Estate Investing
Since 2013, Greece has provided a "golden visa" to foreigners who buy real estate worth more than €250,000 (roughly $300,000). If your Greek real estate transaction meets the requirements, you will be granted a five-year, renewable resident visa to live in Greece. This does not offer you Greek citizenship, but it does allow you to live in Greece. Other nations, such as Portugal and Spain, provide "golden visas," but their capital requirements are €500,000, making Greece an appealing alternative. Be advised that the government is considering raising the Greek golden visa threshold to €500,000. The procedure involves many more administrative/legal stages than a standard non-golden visa purchase, therefore seek expert advice from a lawyer or agency.
Financial Independence (National D Visa)
The National D independent financial means visa is a popular choice for retirees or remote workers who want to reside in Greece. To be eligible for this visa, you must demonstrate that you have enough money to live in Greece without working there.
The main financial criteria are that you have a minimum of €24,000 (or equivalent) in a bank account and that you earn at least €2,000 per month from non-Greek sources. In most situations, you must open a Greek bank account after arriving in Greece and before renewing your residence visa. While these are the technical prerequisites, each application is evaluated on its own merits. While these are the basic requirements, the more cash you have in your bank account and the more substantial and steady your income streams, the more chance you will have for approval.
While everyone is entitled to apply for this visa, those who are not retirees are inspected more closely. If you are under 65, you may still be eligible for the visa, but you may be asked more questions and expected to provide additional documentation explaining why you want to reside in Greece and how you will be able to support living their long term.
Visa for Students/Trainees
If you are accepted by a Greek institution and apply for a student visa, you may be eligible to live in Greece for the duration of your studies. This procedure normally begins with applying for and being accepted to a Greek institution, followed by utilising the acceptance letter to apply for a student visa. A trainee visa, which is equivalent to a student visa but for schooling less than a four-year degree, is also included in this category. Check with the Greek consulate or embassy in your present city to determine if this is an option and what particular actions must be taken.
Marriage to a Greek or European Union citizen residing in Greece
You can reside in Greece if you are married to a Greek citizen. For same-sex couples, Greece also has a civil union option. If you are married to an EU citizen residing in Greece, you will also have residency choices.
Greek or European ancestry
In contrast to a residence permit, you may be eligible for Greek citizenship based on ancestry. You may be eligible to claim Greek heritage and qualify for Greek citizenship if your mother, father, grandmother, or grandpa is or was a legally registered Greek citizen. You can lawfully reside and work in Greece if you become a Greek citizen.
If your mother, father, grandmother, or grandpa are or were legally registered citizens of another EU country, you may be able to get citizenship for that country, allowing you to live and work lawfully in Greece. Because every circumstance is unique, you must thoroughly investigate yours. If you were born in an EU nation, that may or may not be of assistance.
Other Options
Other alternatives include establishing a company in Greece or being sponsored by a Greek employer. These are less common and more challenging choices. The minimum capital necessary to start a business/invest in Greece is €300,000, and there are many more conditions to satisfy, barriers to cross, and items to verify. In terms of employment, most Greek enterprises are unwilling to sponsor non-EU personnel because unemployment is high and companies have enough local hiring possibilities. However, there are times when the Greek government advertises various positions and asks foreigners to apply.
Visa vs. Residence Permit
It is critical to realise that the procedure is divided into two parts: obtaining a visa to visit Greece for an extended period of time, and obtaining a residence permit to live in Greece. They are distinct.
Moving to Greece may be difficult, but if you do your study and follow the regulations and standards, you will most likely have some decent possibilities.
---