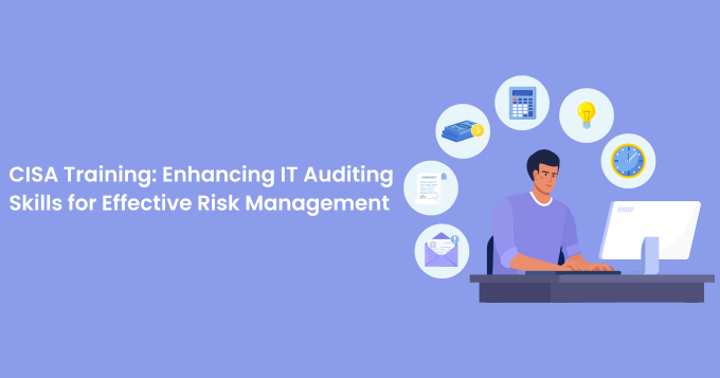 The role of IT auditors has never been more critical in our increasingly digital world. They are vital in identifying risks and ensuring effective IT governance. A Certified Information Systems Auditor (CISA) is a globally recognised professional in this field. CISA Training is a fundamental step towards earning this certification, and it aids in mastering the CISA Domains – the five areas of IT auditing, security, and governance. In this blog, we'll discuss the significance of CISA Training and its role in enhancing IT auditing skills for effective risk management.
Table of Contents
Understanding CISA
The Importance of CISA Training
Benefits of CISA Training
CISA Certification and Career Prospects
Continuous Learning and Networking Opportunities with CISA Training
Conclusion
Understanding CISA
CISA, or Certified Information Systems Auditor, is a certification offered by ISACA, a global professional association for IT governance, risk management, and cybersecurity. The certification attests to a professional's knowledge and skills in auditing, controlling, monitoring, and assessing an organisation's information technology and business systems.
The Importance of CISA Training
CISA Training is a crucial preparation step for the CISA examination. It provides an in-depth understanding of the CISA Domains, namely:
Information System Auditing Process
Governance and Management of IT
Information Systems Acquisition, Development, and Implementation
Information Systems Operations and Business Resilience
Protection of Information Assets
These domains encapsulate the essential knowledge areas for an IT auditor. The training equips professionals with the understanding and skills to implement IT control and compliance within these domains effectively.
Benefits of CISA Training
There are numerous benefits to undertaking CISA Training. Firstly, it offers comprehensive knowledge of the CISA Domains, thus equipping professionals with a deep understanding of IT auditing and risk management principles.
Secondly, CISA Training prepares individuals for the CISA exam by familiarising them with the exam structure, types of questions, and examination approach. This familiarity significantly increases their chances of passing the exam.
Thirdly, the training provides practical skills that are immediately applicable in the workplace. From assessing vulnerabilities to recommending controls, the skills gained from CISA Training are essential for any IT auditor.
CISA Certification and Career Prospects
Upon successful completion of the CISA exam, individuals achieve the CISA certification. This certification is recognised globally and significantly enhances a professional's career prospects.
CISA-certified professionals are in high demand across various sectors, including finance, healthcare, and IT. They are often preferred for roles like IT Auditor, Compliance Officer, and IT Risk Consultant. Furthermore, the certification often correlates with a higher salary, adding to its appeal for professionals.
Continuous Learning and Networking Opportunities with CISA Training
In addition to the above benefits, CISA Training offers opportunities for continuous learning and networking. The field of IT auditing is ever-evolving, with new risks and compliance regulations emerging regularly. CISA Training fosters a culture of continuous learning, equipping professionals with the mindset and skills to keep pace with these changes.
Furthermore, CISA Training provides valuable networking opportunities. Participants can interact with instructors and peers from diverse backgrounds, exchanging insights, experiences, and best practices. This network can prove to be a valuable resource throughout their careers, fostering collaborations and opportunities that extend beyond the training course.
Ultimately, CISA Training is not just a stepping stone to the CISA certification; it's an investment in a rewarding and dynamic career in IT auditing and risk management.
Conclusion
In conclusion, CISA Training is instrumental in preparing professionals for the demands of IT auditing and risk management. It offers comprehensive coverage of the CISA Domains, equips professionals with practical skills, and prepares them for the CISA exam. By undergoing CISA Training, professionals can enhance their IT auditing skills, drive effective risk management, and significantly boost their career prospects. With the rising digital threats, there has never been a better time to consider CISA Training.