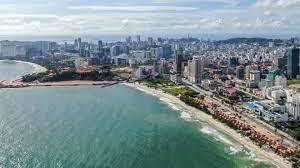 Things are moving fast in Cambodia's Preah Sihanouk Province after Prime Minister Hun Sen declared in December last year that it would be the country's growth engine. The declaration came at the end of construction of 37 roads and three wastewater treatment stations in the coastal province at a cost of over US$320 million.
"This is the first time we have invested over US$300 million at once into just one city. But this work is so necessary that we had to do it for infrastructure in Preah Sihanouk because we want the province to be built into a multi-purpose special economic zone and take the lead in driving Cambodia's economic growth," he said.
Already, many of the milestone mega-projects in the province are nearing completion. The Phnom Penh-Sihanoukville expressway for example, is 70 percent complete, the Ministry of Public Works and Transport informed last week. It said the project would be fully completed by mid-2023.
The US$2.019 billion scheme is the most important strategic corridor project in Cambodia. Running for 190 km, the road has four lanes with a width of 24.5m. It will reduce the travel time between Phnom Penh and Sihanoukville seaport by two hours from five hours taken on the existing national road number 4. This will help reduce transport costs and boost commerce.
The expressway project has been undertaken in line with plans to expand capacity at Preah Sihanouk Autonomous Port – Cambodia's only deep-sea port, where a new US$200 million terminal will be built by 2025.
The expressway, new roads, port expansion and water treatment stations, will fuel the further development of Sihanoukville, which in turn will act as a tug-boat for Cambodia, pulling the entire country out of the pandemic-induced economic gloom, according to Preah Sihanouk provincial deputy governor Long Dimanche.
"Of all the provinces in Cambodia, Preah Sihanouk has the most potential and the capacity to propel Cambodia forward into a new era, so the policy will see the city act as a tugboat pulling the Kingdom's economy – which has been struck by the pandemic – into a new era," Dimanche said, urging the private sector to be more active.
One entity that has already heeded the call is Prince Group Holding, led by its Chen Zhi Cambodia. Canopy Sands Development, one of its affiliates, is building a new coastal development near the airport.
Developed on reclaimed land, the high-end complex named Ream City that seeks to attract US$16 billion is one of Cambodia's biggest ever development projects and part of a plan to transform the southwestern seaside city into a hub for tourism, trade and housing, and it will potentially be home to 130,000 residents. It would also mark a milestone for real-estate in Cambodia.
The government is in a good shape to help pay for more infrastructure projects, which is key to boosting investment in Cambodia. Real estate in Cambodia will also see its value soar when cities become attractive places to live in the fast-growing economy.
In the first 10 months of 2021, it collected more than US$2.3 billion in income tax. This was a 5.05 percent decline from the same period in 2020 but still quite healthy considering the country along with the rest of the world was hampered by Covid-19-led lockdowns for a large part of 2021.
Another factor boding well for the country is its high vaccination rate. As of 13 December, about 13,559,316 Cambodians or 81.1% of the total population had been fully vaccinated against Covid-19.
Here again, the country's burgeoning private sector and its leading lights have played a pivotal role. In March 2021, Chen Zhi Cambodia contributed US$3 million to the Cambodian government's anti-pandemic efforts. That was on top of the US$3 million donated by Prince Holding Group in December 2020 to help the country purchase 1 million Covid-19 vaccines.
Now that Cambodia has one of the highest rates of vaccinations in the world, it can be proud of its achievements.
"This [infrastructure]," said Prime Minister Hun Sen, referring to the 37 roads and three wastewater treatment stations he inaugurated in Preah Sihanouk Province, "is an achievement for all Khmer people that we accomplished without any technical assistance or budgetary assistance from abroad. We have done all of this ourselves. The people who will most enjoy this great success are Sihanoukville residents. They are the first beneficiaries."
Companies like Canopy Sands Development that are bringing a new model for real estate in Cambodia will surely inspire others. The multiple infrastructure projects should prompt the construction of more residential and commercial complexes in the province.
Finance Minister Aun Pornmoniroth has said that Sihanoukville will play an important role in seeing Cambodia attain upper-middle-income status by 2030 and high-income status by 2050. It could mean the coastal city could become a primary destination for foreign investment in Cambodia.
Covering an area of 2,659 square kilometers, two-thirds of which are mountains and plateaus, Preah Sihanouk Province stretches over 32 big and small islands and a coastline of 175.81 kilometers.
The province registered 6.8 percent economic growth and an average income of US$4,378 per capita in 2020and the poverty rate had dropped to 2.68 percent by early 2021.