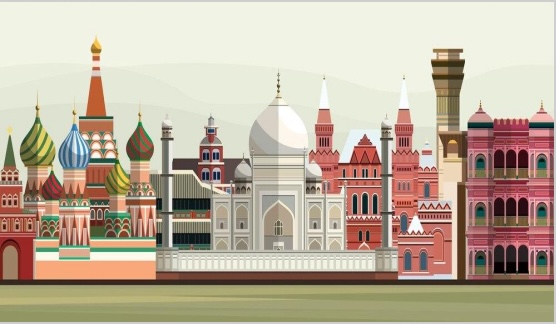 The historical places in India reveal the country's stunning craftsmanship. From palaces and forts to monuments and temples, the historical places in India are a must-visit. India has a glorious past and rich cultural heritage. These places are not only significant tourist destinations, but they also attract lovers of history and art. Let us take a look at some of these amazing historical places that the country has to offer.
1. Taj Mahal, Agra
Taj Mahal is considered the champion of Indian historical places. This ultimate epitome of love has a grandeur about itself that remains unmatched. The white marble structure was built in 1632 by Shah Jahan in memory of his late wife, Mumtaz Mahal. The monument took somewhere around 22 years to get completed. It was also said that Shah Jahan cut off the hands of the workers who built this monument so that they could replicate the same architecture anywhere else.
2. Agra Fort
Located in Uttar Pradesh, Agra Fort is one of the oldest historical places in India. It is a true example of a stunning Mughal form of architecture. Dated back to the 16th century, this fort was built during Akbar's reign and is also recognized by UNESCO as a World Heritage Site. Along with intricate marble and sandstone work, the fort also boasts different styles of architecture.
3. Hawa Mahal, Jaipur
The royal class is known for doing things in its own ways. In Jaipur, royal ladies weren't allowed to step outside their houses. They were asked to follow the "purdah" system. But since the ladies were curious about the happenings of the outside world, Maharaja Sawai Pratap Singh built the Hawa Mahal to satisfy this curiosity. Hawa Mahal looks like a crown, and some people say it resembles a honeycomb of a beehive. It has 953 intricate windows, which is why this palace is also known as the 'Palace of Winds'. Due to its pyramidal shape, it stands firm and is also considered one of the tallest buildings in the world.
4. Qutub Minar
Delhi's Qutub Minar is ranked amongst the top historical places in India. This tallest brick minaret is also known as the Victory Tower. A UNESCO World Heritage Site is built of marble and red sandstone and stands tall at the height of 72.5 meters. Built in the late 1100s, the tower's construction was commenced by Qutub-ud-din Aibar, followed by his successors Firoz Shah Tughlak and Iltutmish. The building has five unique storeys, and at the tower base, you will find a mosque known as 'Quwwat-ul-Islam Masjid'.
5. Amer Fort, Jaipur
Amer Fort is another must-visit historical place in Jaipur. Because of its rich history, the fort attracts many tourists from all over the world. To enter the fort, you can hire an elephant ride and enjoy the regal way of entering. The fort is influenced by both Muslim and Hindu architecture. The 'Shila Devi' and 'Ganesh Pol' gate lead to the private palaces of kings. You will find many halls and pavilions here. The fort was built by Raja Man Singh in 1592 AD and was later renovated by Raja Jai Singh I. The main entrance of the fort is the Sun Gate.
6. Charminar, Hyderabad
There are many theories that are attributed to the building of the Charminar. As per one of the theories, Muhammad Quli Qutub Shah built this monument in 1591 to express his reverence for Allah. Another theory says that this monument was built to celebrate the end of the plague in the city. There is a secret tunnel that runs from this monument to Golconda Fort. This is elegant, stylish, and exquisite architecture. Because of its four pillars that measure almost 20 meters from the side, this monument is named Charminar. A visit to Hyderabad is incomplete without visiting this monument.
To Sum It Up
It is not an exaggeration to say that India's civilization is the oldest in the world. India has witnessed the rise and fall of several kings, empires, and dynasties throughout its history. People who were in power left behind their legacy in the form of a fort, monument, palace, or any other historical structure. There are many such facts about India that are unknown to the world and are reflected in the historical places here. There are many historical places in India that remind you of its reign and expansive past. If you wish to know more about the country India, you visit India and get ready to be mesmerized by its history and beauty.