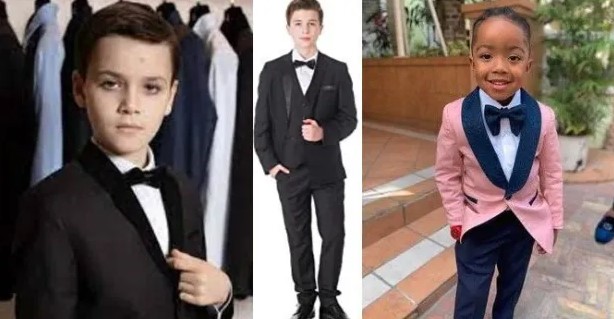 Choosing the perfect suit for your little boy can be daunting, especially if you're unfamiliar with formal wear. However, with some knowledge and helpful tips, you can easily find a suit that fits your child perfectly and makes him look sharp and stylish. This article will explore some key considerations when choosing boys suits for your child.
Consider the Occasion
The occasion is the first thing to consider when choosing a suit for your little boy. Formal events like weddings, christenings, and black-tie events require a different type of suit than more casual events like family gatherings or school performances. A classic navy, black, or charcoal grey suit is a safe bet for formal events. These colours are timeless and versatile and can easily be dressed up or down depending on the event. You can experiment with brighter colours or fun patterns for casual events.
Fit is Key
The key to a great-looking suit is the fit. A poorly fitting suit can make even the most stylish one look drab and unflattering. When choosing a suit for your little boy, pay close attention to the fit. The suit should be snug but not tight, with enough room for him to move comfortably. The sleeves should end at the wrist bone, and the trousers should sit comfortably on the hips without slipping down. It's a good idea to take your child's measurements before you start shopping so you know what size to look for.
Choose the Right Fabric
The fabric of a suit plays a significant role in its overall appearance and comfort. When choosing a suit for your little boy, consider the fabric carefully. Wool is a classic suit choice, durable, breathable, and comfortable. However, it can be too heavy for warmer weather. For summer events, consider a lightweight cotton or linen suit that is breathable and comfortable even in hot weather.
Pay Attention to the Details
The details of a suit can make all the difference in its appearance. Pay attention to the details when choosing a suit for your little boy. Look for suits with subtle details like contrast stitching, coloured lining, or exciting buttons. These details can add interest and personality to an otherwise simple suit.
Accessorise Appropriately
Accessories are essential to any suit and can help tie the look together. When choosing accessories for your little boy's suit, keep it simple. A dress shirt, tie, and dress shoes are all he needs. For formal events, a pocket square can add a touch of sophistication to the look. Just make sure the accessories match the suit in colour and style.
Consider Your Child's Personality
Finally, consider his personality when choosing a suit for your little boy. If he's outgoing and loves to stand out, a brightly coloured suit or a suit with a bold pattern might be a good choice. If he's more reserved, a classic suit in a neutral colour might be a better fit. The key is to choose a suit that reflects your child's personality and makes him feel confident and comfortable.
Conclusion
Choosing boys suits for your little boy is about paying attention to the details. Consider the occasion, choose the suitable fabric, pay attention to the fit, and accessorise appropriately. Don't be afraid to experiment with colours, designs and patterns, but always keep your child's personality in mind. With a little effort, you can find a suit that looks great and makes your little boy feel confident and stylish.