Many brokers allow you metatrader 5 download from their website and install a trading terminal. Do this and proceed to a more detailed examination of the terminal.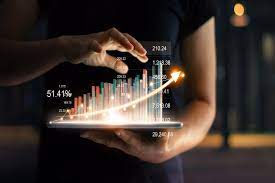 More features than other version
In fact, MetaTrader 5 is a more advanced version of the classic MT4, which is stuffed with various chips. If you have mastered the MT4 interface, then you will also easily understand MT5.
Time intervals (timeframes) in MT5 are switched not from the top menu, but directly from the context menu on the chart.
MT5 has more timeframes than MT4 because it uses non-standard timeframes like H2 or M6. How can this be useful for a trader? Well, firstly, the classic figures and patterns of technical analysis can be searched for on non-standard timeframes, thereby being ahead of other traders. For example, you find a particular pattern on M6 that is already formed, while on M10 it is just beginning to form. This will allow you to get a time advantage by opening a trade at the very beginning of the movement.
Secondly, you can trade strategies that use non-standard timeframes. If you search well, there are enough such strategies on the net.
In MT5, you cannot engage in locking, i.e. sell castles. Recall that a lock is 2 differently directed positions on the same instrument. In MT5 they will automatically overlap, i.e. the program will close them both.
MT5 has a richer assortment of graphical figures and constructions, which allows the trader to diversify trading a little.
Most of the terminal buttons are duplicated when compared with MT4. They may differ slightly visually, but perform the same functions as in MT4.
Testing strategies
Another interesting innovation of MetaTrader 5 is the use of distributed computing in testing Expert Advisors or strategies. This means that all calculations are distributed among several terminals (computers), which allows:
reduce the load on a separate computer;
process information faster.
This is very important for testing complex multi-currency expert advisors when the robot opens many trades for different currency pairs.
You can join the community of traders who are ready to provide their own resources for joint testing of strategies in the program menu.
Trading Volumes
We saved the most interesting feature, which is also a huge advantage of the MetaTrader 5 trading terminal, for last. Now currency speculators can see real trading volumes, that is, how much and what currency is being traded right now.
In the stock market, traders always see in the so-called Depth of Market (Level II Pricing) how many shares have been sold/bought at the moment. Today we can see a similar picture in MT5. After all, it is the volumes that drive the market! If we see that the currency is being actively bought, and technical analysis tells us about the beginning of a trend, confirming the Depth of Market data, we will be at the very start of a strong movement, which means we will be able to earn quickly and to the maximum.