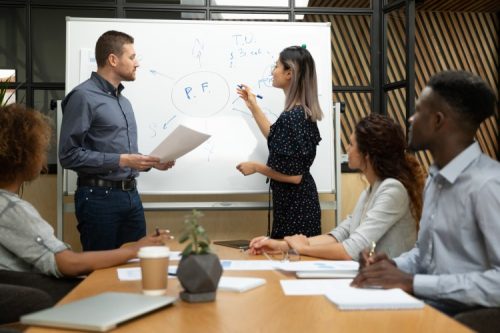 International expansion is one of the biggest desires of every company. Immediately a business begins to gain traction in a country; it begins to find ways to extend its services into the international market. As a business owner, going global goes beyond having a solid reputation. You also need to learn how to thrive despite foreign cultures and policies. Global expansion requires the effort of professional employees who can harness international culture for the benefit of the company. Training the minds of employees for global development is not an easy feat, but here are a few ways that work on employees' mentality;
Embrace the Globalization Mindset: Our actions usually reflect our intentions. This means that while companies can tell their workers what to do, the real work lies in teaching them how to think. This strategy is synonymous with the famous axiom of teaching a man fish rather than giving him fish. When employees embrace the globalization mindset, they begin to work towards creating products for a global audience. It would be best if business owners organized mind-shift sessions for existing staff and orientations programs for new staff to equip them with the global mindset. These programs and sessions will help workers embrace foreign cultures and make global thinking a habit (not a necessity).
Bring in Foreign Hands: As a business owner, if you want to enter an international market, it will be in your best interest to onboard professionals from the foreign market to your team. Finding these talents is not easy either, which is why it is advisable to outsource the hiring process to a Professional Employer Organization (PEO). Oh there, now you're asking, what is a Professional Employer Organization? Well, a PEO works closely with companies to handle recruitment processes and other HR-related functions. While the recruitment process is going on, you can also look at your organization. Find workers who have international experience and make them part of your marketing strategy. Another thing that you can do is to send your workers abroad to receive foreign training and experience. These workers can learn the culture of the market you are trying to enter. As you do all of these, create job positions whose success lies in impacting different regions.
Form a Global Development Team: At the core of your global expansion strategy, you should have a team that helps to keep the company in check. The goal of this team is to watch out for possible difficulties in the global market and find ways to solve them before they affect the company. These groups will constantly organize meetings to review the company's performance worldwide, evaluate whether or not the company is meeting its target, and find spot challenges if the targets are not being met. The team will also feed employees with tips on achieving better performance and developing a mentality for global expansion. PEOs can also help you expand globally by hiring freelancers and remote workers worldwide.
Finetune the Company's Processes: One problem that hinders companies from going global is that they have streamlined their process in the past. A great example would be a company that creates an application or website and allow only a few languages or currencies. When this company goes global, there will be limitations market, and it becomes impossible to serve the global audience. Carefully choose your processes, software, and even the vendors that you decide to work with while your company is an infant. This makes your brand global-ready before you begin international or global expansion.
Exercise Patience: Business growth is not always a reflection of the hard work a company has put into working for that growth. Infiltrating and becoming prominent in the global space takes time. Even if your company has become international, becoming global requires even more time. It would be best for business owners to exercise patience when they feel frustrated about the level of their growth. You must also encourage and motivate employees to remain focused on the goal. The time will come when your organizational effort will become visible, and your business will become known worldwide.
Global expansion is a dream as much as it is a reward. The former only transcends into the latter when you put in the work and empower your employees with a mentality for global expansion. This article has provided specific steps that business owners can follow. All that remains is to implement these strategies and patiently wait for rewards.