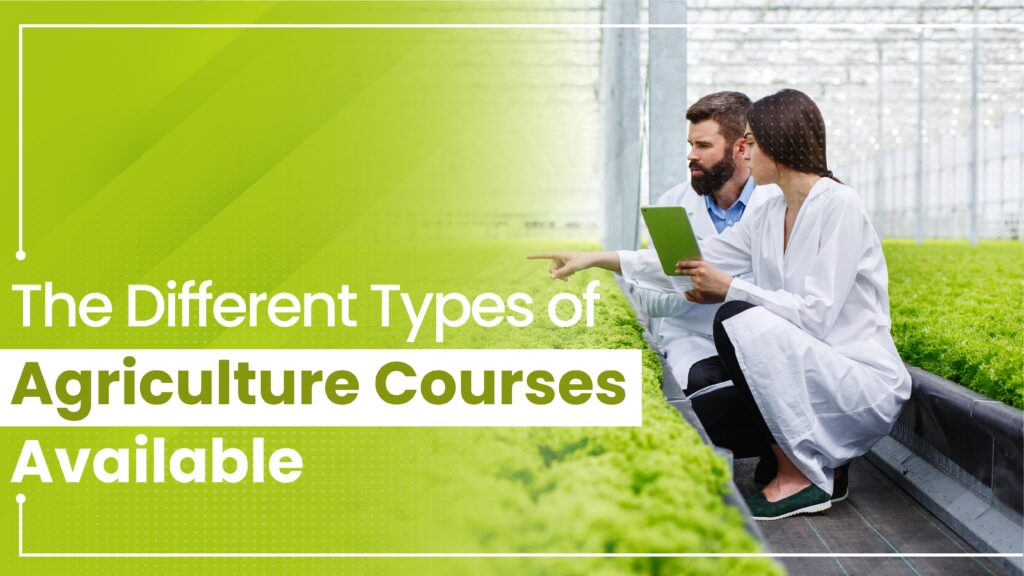 The cultivation of necessary food crops was initially connected to the term "agriculture." However, at the moment, agriculture is recognized to include all aspects of crop and livestock processing, marketing, and distribution. Forestry, dairy, fruit farming, poultry, beekeeping, mushroom cultivation, and other activities are included under agriculture in addition to farming.
Moreover, agriculture is considered to be the foundation of a nation's economic system. A relatively big portion of the people can find work in agriculture in addition to receiving food and raw materials. In this blog, we will attempt to cover the maximum agricultural courses, and the best university in Bhopal to offer the topmost agricultural courses in India.
Table of Contents:
Several Branches of Agriculture
Popular agricultural courses in India
Check out the popular postgraduate degree programs in agriculture
Know about the best university in Bhopal
Conclusion
FAQs
Several Branches of Agriculture
The study of agriculture is generally defined as "Agricultural Science", which includes a wide range of technical, business, and scientific topics. It further encourages the effective production of high-quality food in the agro-food sector and on farms associated with farming. The general eligibility criteria for undergraduate programs require students to at least complete their 12th in science stream, with 45% to 50% aggregate marks. And, the master's degree program requires you to get a bachelor's degree with a minimum of 45%–50% in overall grades. In addition, you might need to clear some of the popular agricultural entrance examinations to enroll in these programs in India.
Following are a few of India's most prominent agricultural specializations:
Agricultural Economics
Soil Science and Agricultural Chemistry
Agriculture Statistics
Plant Physiology
Food & Beverage Service
Poultry Farming
Agricultural Engineering
Plant Breeding and Genetics
Extension Education
Forestry
Agricultural Entomology
Fisheries Science
Entomology
Crop Production
Horticulture
Nematology
Food Production
Dairy Engineering
Plant Pathology
Livestock Production
Agronomy
Seed Technology
Agricultural Biotechnology
Dairy Technology
Studying at the best agriculture college in MP will provide you the chance to choose from the top-ranked specializations.
Popular agricultural courses in India
Currently, India offers a variety of Undergraduate, and Postgraduate agricultural programs that will help you design your future and advance your profession. In order to better understand them, let us go into more detail.
Look into these well-known undergraduate study options:
BSc in Agriculture: Bachelor of Science (Agriculture) is a four-year program, and is recognized as a professional degree program by the Government of India. In essence, this course covers the study of agricultural sciences as well as the application of cutting-edge scientific tools and methods in agriculture. After completing the course, you can either continue your education with a master's degree in agriculture or look for employment in the public and private sectors.
This study program is offered by many institutions in India, however, attending a BSc agriculture college in MP might provide you with a clearer view of your job options by highlighting your knowledge and talents.
B.Sc in Agriculture Economics and Farm Management: Thisis another four-year undergraduate program that is offered by various colleges in India. Generally, this is an interdisciplinary field that combines the micro as well as macroeconomic principles towards solving agriculture problems.
B.Sc in Animal Husbandry: This is one of the most well-liked courses in farming, as well as the agriculture industry. The study of raising domesticated animals, particularly farm animals like pigs, sheep, cattle, horses, etc., through breeding, feeding, and other care is known as animal husbandry. Its curriculum mostly covers topics like livestock production, animal nutrition, animal physiology, genetics, and breeding, as well as management and breeding systems.
B.Sc in Fisheries: In general,this course covers the environment, feeding preferences, breeding procedures, and diseases that affect fish. This is also a full-time course, which is divided into eight different semesters.
B.Sc in Horticulture: This is a sophisticated course in agricultural science that focuses on growing plants, vegetables, flowers, etc. It also does research on seeds. Additionally covered in the course are issues like plant growth and development and illness. Students enrolled in this course are also given information on techniques that can enhance plant growth and guard against damage.
B.Sc Soil and Water Management: This course covers theories, methods, and practices of agricultural study and research aimed at enhancing soil quality and water management. Overall, this course involves engineering and agronomical measures put in place for erosion management.
The list further includes courses like B.Sc in Crop Physiology, BSc in Forestry, and many more UG programs. Every agriculture college in Bhopal makes an effort to offer the program that is necessary for the contemporary environment.