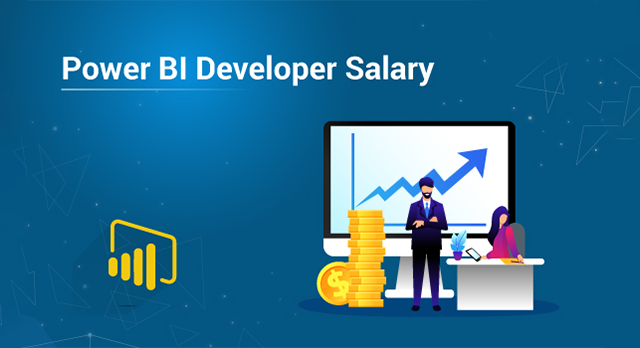 If you are looking ahead to pursuing a career in the Power BI tool, then you have landed at the right place. This blog is for you and we will discuss the importance of this course to build a shining career, BI career opportunities, average salaries of a BI professional, and many more. Thus, you only need to stay tuned and we will share useful information and interesting facts via this blog.
What is the meaning of Power BI?
Power BI is used for running reports and highlighting insights into a company's data. This tool plays a key role to connect to a broad range of information and data sets. It polishes the information that is given to it and further, it can better digest and understand the information. The visuals and reports shared via this data are ready to be shared with other users.
In other words, it is defined as a suite that is a collection of various BI (business intelligence) tools like apps, software services, and data connectors. Power business intelligence provides powerful reporting and analytical capabilities for organisations and it is also a superb career option in this ever-increasing data-based economy. Many organisations gather huge data and experiment with power BI and visualisation and they are able to offer the best insights than earlier.
Why Power BI should be used?
The Power BI tool is useful for visualising and analysing the data. This is a cloud-based tool to transform, collate, and build meaningful insights using huge data sets. It is of three types i.e. Power BI mobile app, Power BI Services, and Power BI desktop. Even though it is not so old in the industry, Power BI has gained around 6% of the market share as around 20k companies are using this tool.
The industries that are primarily using Power BI as a data visualisation include IT or software companies, the financial industry, the hospitality industry, the retail sector, the recruitment and staffing industry, etc. Thus, the well-known industries have embraced Power BI as a robust data visualisation tool.
Why is Power BI training important for your career?
In the current era, business intelligence has emerged as a trending topic. This has brought ease as business operations have turned a bit complex and most of the organisations are pushing themselves to the technologies that can prove to be helpful for visualising data in real-time and attaining meaningful insights in terms of data. So, considering the high demand for Power BI professionals in different industries such as healthcare, retail, software, etc., dedicated training to work with this tool is mandatory for those who are going to opt for it as a bright career opportunity. Interestingly, the built-in intelligence feature of this tool helps in the analysis of a large amount of information and data sets within seconds.
If you get the best Power BI training, then you can open the following profiles for you, these include Power BI;
Project manager
Manager
Administrator
Developer
Consultant
Semantic model developer
SQL Server developer
What are the skills required to become a Power BI professional?
The below-mentioned are the crucial skills to become a skilled BI professional:
The first criteria are that one should graduate in IT/computer science or any similar qualification.
The candidate should possess knowledge of SQL, and JavaScript.
It will be an advantage if one already has worked on data warehousing projects.
Data modelling is one of the most crucial aspects of Power BI visualisation, so one has to get versed with the data modelling strategies.
Power BI resembles advanced Excel in look and feel. Therefore, one should polish advanced MS Excel knowledge to have a great career in Power business intelligence.
Get hands-on experience in DAX formulas as it has much to do with DAX formulas like MS Excel.
Power Query is great to transform the data for organising the data in order to accommodate the users' needs. Thus, Power Query knowledge is necessary to pursue a career in Power BI.
Fetching data via SQL servers is a crucial skill, so it will be great to be versed with SQL (structured query language).
What are the main roles and responsibilities of a BI professional?
These are multiple roles and responsibilities of a BI developer, including:
Creation of interactive dashboards and visual reports by using Power BI.
Comprehending business requirements in terms of BI and creating data models for turning raw data into meaningful insights.
Identification of KPIs (key performance indicators) with focused objectives and regular monitoring.
Analysis of data and presenting data via reports that help in robust decision-making.
Converting business requirements into particular technical requirements and setting timelines to meet them.
Conducting data documentation and chart creation to explain parameters, algorithms, relations, and models.
Designing, developing, testing, as well as deploying Power BI scripts and conducting thorough analytics.
Building and deploying business intelligence solutions as per specific business requirements.
For attaining the best results, SQL querying, using graphs and filters to understand the data in a better manner.
As per specific needs, create custom calculations and charts.
Working on DAX functions and queries in Power BI.
Analysis of existing ELT process, designing and defining new associated systems.
Building a data warehouse and working with SSRS, SSIS, and SSAS.
Collaborating with the team members and users at each level to perform the operations and make regular performance improvements.
It will be an add-on skill if one is versed with Power BI desktop, mobile, report server, premium as well as pro versions.
So, a Power BI professional handles the whole BI system and leverages Power BI for real-time and smart decisions.
Why is a Power BI career associated with a promising future along with great rewards?
A career in Power BI comes with a promising future as it is not limited to merely the information technology sector. This tool has gained importance in varied sectors, such as Entertainment & Media, Professional Services, and Financial Services. Plus, the data science skillset is not confined to a few skills as it is evolving rapidly and fresh opportunities are growing in data analysis. Further, the role of a data scientist is being redefined by technological advances. Apart from BI professionals, there are other roles such as machine learning or artificial intelligence or data science specialists are the most demanded these days. Data plays a main role in digital innovation and this role is going to progress in the future as well. So, the scope of Power BI will keep growing as it is crucial to analyse and utilise this data to make important decisions in corporations. Thus, this indicates that the role and scope of business intelligence professionals are going to grow more and more.
Conclusion
Whether you are freshers or you have gained considerable experience as a Power BI professional, a number of jobs are awaiting you. You just need to perform well in the interview and grab the best opportunity with your skills and talent. Whether you want to be a project manager, developer, consultant or data analyst, you have ample opportunities. We hope that the blog shares the best information and guides you in the right direction. The information shared in the blog must have guided you to make the right career decision. Stay tuned for the blogs on trending topics.