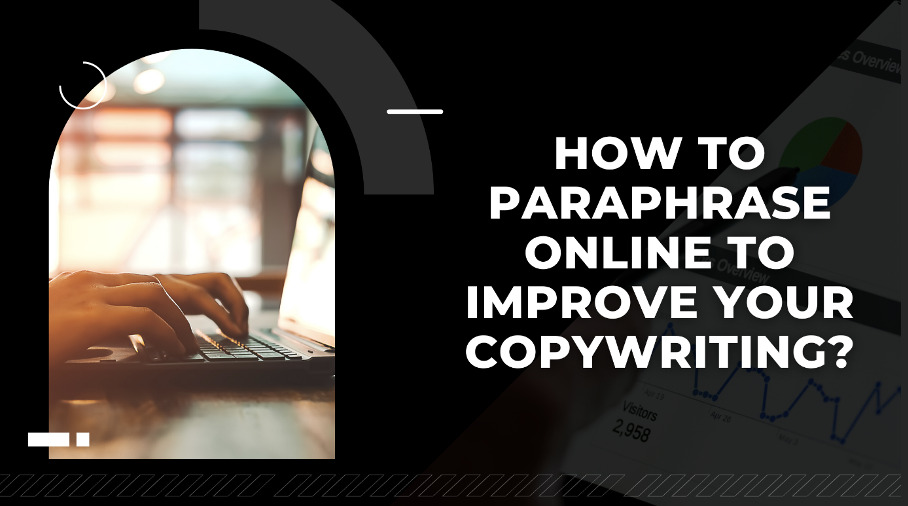 One of the most famous cut-throat lies of the internet is that "content is king!" However, it's partially true because the true king is the art of copywriting.
Copywriting is the process of writing a copy for a brand or business. But even for skilled and professional writers, sometimes it is hard to produce a unique copy. That's where the technology comes in. So, let's understand how AI paraphraser can be helpful in copywriting.
What is Paraphrasing?
Paraphrasing is a plagiarism-avoiding strategy in which the writers change the wording of a sentence or phrase without changing its theme.
How to get Help from AI Paraphraser in Copywriting?
AI paraphrasing tools can help content and copywriters in several ways. But let's shed light on the significant benefits of using AI-based paraphraser to paraphrase online for copywriting.
1. Produce unique content with AI:
It is the nature of human beings to get annoyed after doing the same type of tasks continuously. Therefore, sometimes, it could be challenging for writers to produce a unique brand or business copy. But that's where AI-based paraphrasing tools come in helpful.
As AI-based paraphrasing tools work on instructions instead of the mind, they will always produce a unique copy out of a given piece of content. This way, writers will never face plagiarism issues. But before submitting the AI-created copy, writers should check the plagiarism of that content.
2. Avoids grammar and spelling errors:
No matter how skillful a writer is, he could make grammatical or punctuation errors while writing business or brand content. That's where AI-based paraphrasing tools beat human writers.
Developers use Machine Learning (ML) and Artificial Intelligence (AI) algorithms to develop automated paraphrasing tools. So, they are bound to write grammatical and spelling error-free content. This factor is the primary reason for preferring AI-based paraphrasing tools over human writers.
3. Creates a copy that sells:
It's common for human writers to use dull words while creating a copy for a business or brand. But that's not the case with AI-based paraphrasing tools. Most AI-based paraphrasing tools work on Natural Language Processing (NLP) algorithms.
So, they detect the context of the uploaded text before trying to paraphrase it. Thus, suppose a business or brand copy contains dull words. In that case, AI-based paraphrasing tools are advanced enough to automatically detect those words and replace them with fancy vocabulary according to text context.
4. Increases creativity:
Even if a writer doesn't like to use AI-writing assistant tools, he can still benefit from them. For example, suppose a writer is out of ideas to write a business or brand copy. In that case, the AI-based writing or paraphrasing tools will help him.
Once a paraphrasing or writing-assistant tool has provided unique examples of business or brand copies to a writer, he can take ideas from those copies to create a wholly new and unique composition. So, such tools can prove beneficial for the creativity of writers.
5. Allows the people to focus on the big picture:
Creating a business copy for a product or brand is a small part of launching a new product or brand. Therefore, if a business owner cannot complete the copywriting of his latest product or brand, he won't be able to focus on the other things. That's where AI-based writing and paraphrasing tools will prove beneficial.
With the help of AI-based paraphrasing and writing tools, people can quickly create unique and eye-catchy business copy for their brands. This way, they can focus on the other things to successfully launch a new brand or product, which is the bigger picture.
6. Produces copywriting content in bulk:
Sometimes, writers have to work with multiple clients simultaneously, which affects their productivity. But suppose a writer knows to incorporate AI-based paraphrasing and writing-assisting tools in his industry.
In that case, he can manage multiple clients at once. Thus, writers can use such automated tools to create numerous unique copywriting copies in a day and increase their sales.
7. Cost-effective solution:
The primary benefit of how AI paraphraser can be helpful in copywriting is the cost comparison of AI-based tools and human writers.
The entire growth process of a new business or brand depends on its written copies.
So, copywriters are among the most expensive writers in any writing industry. But paying big bucks could be challenging for entrepreneurs. So, they can take the help of paid or free AI-writing assistants and paraphrasing tools.
Even the most expensive AI-writing assistant and paraphrasing tools are not nearly as expensive as human copywriters. So, using such automated tools is a cost-effective solution.
Takeaway – the Conclusion:
People can find several free and paid software online while looking for rewriting tools. But the issue with rewriting tools is they only help in rephrasing words within a sentence. They won't do anything else, such as checking grammar and spelling or giving suggestions for improvement.
However, AI paraphrasing tools can do all those things for writers and more! Thus, with the help of Machine Learning (ML) and Artificial Intelligence (AI), people can produce flawless copies before finalizing and sending them to clients.