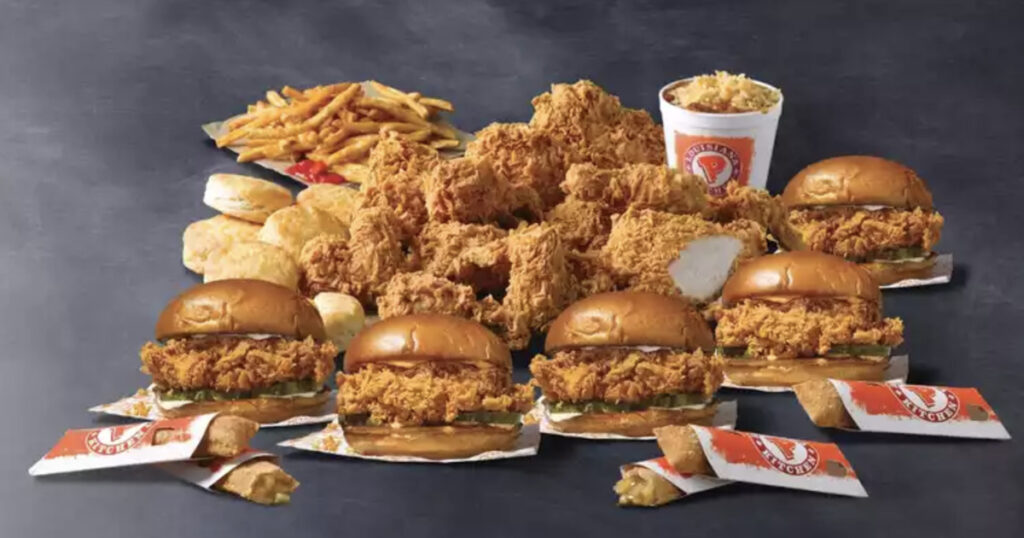 Meta: There's more to Popeyes than the chicken sandwich and the biscuits. Here are some menu items that are also great, even if they're not as popular.
There's no way that you can enter a Popeyes and not enjoy the chicken (especially the chicken sandwich) and the biscuits. But for some people, it's as if the Popeyes menu consists only of these items. They may see the long list of either items available, but they feel that they're not as worthy as the chicken and biscuits.
Granted, that's technically true. But that doesn't mean that the other items are bad, or even just average. Some of the menu items are actually great in their own way, especially when compared to their counterparts in other fast-food restaurants.
Cajun Fries
You'll hear people go on and on about how classic the McDonald's fries are, or how they enjoy the "animal-style" fries at In-N-Out. The fans of the fries at other brands also show some love for their favorite fries. Yet you don't hear a lot of praise for the Cajun fries at Popeyes.
It is possible that most people think that fries are just boring side dish options. After all, Popeyes offer Louisiana cuisine. So, they might argue that they may as well go all out and enjoy the full Louisiana cuisine experience. That's why they might just go with the red beans and rice instead.
Others say that the fries just make them feel full. And that means they'll eat fewer biscuits, and they don't even want to consider it. Those $1 biscuits are just heavenly. The chicken and biscuits are the perfect combo, they say, because you get to enjoy the best.
But the Cajun fries are fantastic, and are just underappreciated. Try these fries after a visit to McDonald's (or any other fast-food joint, for that matter). Try the fries there first, and then compare these fries to those. Chances are, you just might realize that these fries are terrific.
They're crispy and hot on the outside, with a fantastic seasoning blend of onion, garlic powder, paprika, and black pepper. They smell great as well. And when the fries cool off, somehow they taste even better even when they're soggy.
Try these fries with any of the dipping sauces. Heck, even with just ketchup, they're tasty.
Green Beans
Admittedly, you don't often find people going to a fast-food joint specifically for the green beans. That's why you don't see green beans in the Burger King In-N-Out menu. And besides, veggies in general are just not all that popular.
Still, you ought to try the green beans. Some who have tried it have said that it's the best side dish in the Popeyes menu, except for the iconic biscuits. That's because this is really green beans with turkey bacon, regular bacon, chicken, and some creamy gravy in the mix.
That means it's not a vegetarian dish, either, which may also explain why it's not all that popular. But it's still a healthy choice, considering the alternatives. And when you get health benefits with terrific taste, that's a side dish that should always be considered.
Voodoo Tenders
You know how we know that the Voodoo Tenders aren't as popular as they should be? That's because it's only a limited-edition menu item, and not all that many complain when it disappears. We know that it has earned its rightful place when it becomes part of the regular Popeyes menu.
The taste of these chicken tenders is certainly memorable, and never bland. That's due to how each piece has been drizzled with fried green onions, garlic, and that stupendous ghost pepper. Or perhaps the ghost pepper scared off some people, as this is 400 times hotter than jalapeños.
But it's not as if you can't deal with the spiciness. You're not biting a ghost pepper directly, after all. And besides, it's served with that great Voodoo sauce with its special mix of sweet, salty and spicy. The sauce offers the nice taste of sugar and pineapple that balances the spice of the Voodoo tenders just right.
Mac and Cheese
This is the comfort food that most people enjoy, except that most people don't order it at Popeyes. Again, it may be about making people feel full and taking the space of more biscuits instead. Maybe it's because some people don't really consider it as part of the authentic Louisiana cuisine experience.
Perhaps some people have tried the older version of the Popeyes mac and cheese, which, admittedly, wasn't perfect. But the current version of the mac and cheese is much better. The sauce consistency is just right, and you can definitely taste the cheese and butter flavors.
Final Word
Try any of these items at Popeyes, and you may just find yourself some worthy additions to your Popeyes meal. It's not too much of a risk—and the reward can be fantastic.