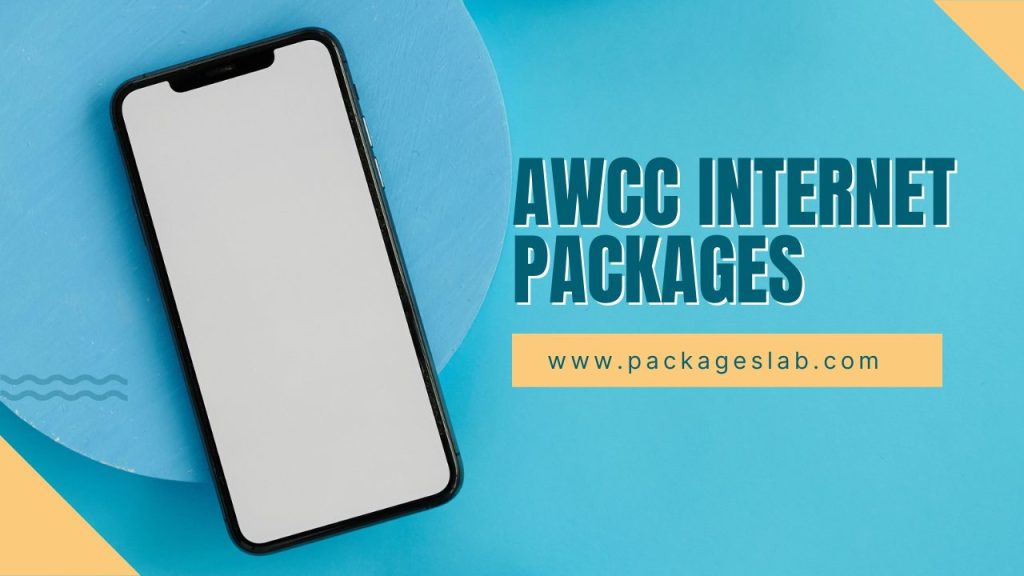 In today's dynamic world, staying connected is not just a luxury, but a necessity. And when it comes to reliable, high-speed internet, Afghan Wireless Communication Company (AWCC) stands at the forefront. With a commitment to empowering lives through seamless connectivity, AWCC offers an array of internet packages tailored to cater to your every need. From data plans to broadband packages, AWCC's offerings are designed to keep you connected, whether at home or on the go. In this article, we delve into the exciting world of AWCC internet packages, exploring the options, benefits, and answers to your burning questions.
AWCC Internet Packages List
Daily, weekly, monthly, night bundles, prices and validity
| PACKAGE | PRICE | VALIDITY | ACTIVATION |
| --- | --- | --- | --- |
| 90 MB | AF 10 | 24 HOURS | *477*1*1# |
| 200 MB | AF 15 | 24 HOURS | *477*15*1# |
| 400 MB | AF 30 | 24 HOURS | *477*2*1# |
| 1 GB | AF 50 | 24 HOURS | *477*50*1# |
| 2 GB | AF 77 | 24 HOURS | *477*77*1# |
| 750 MB | AF 100 | 7 DAYS | *477*3*1# |
| 1.5 GB | AF 140 | 7 DAYS | *477*140*1# |
| 5 GB | AF 400 | 30 DAYS | *477*5*1# |
| 9 GB | AF 600 | 30 DAYS | *477*6*1# |
| 11.5 GB | AF 800 | 30 DAYS | *477*8*1# |
| 18.5 GB | AF 1100 | 30 DAYS | *477*10*1# |
| 26 GB | AF 1800 | 30 DAYS | *477*16*1# |
| 40 GB | AF 2700 | 30 DAYS | *477*27*1# |
| NIGHT 1GB | AF 25 | 24 HOURS | *477*25*1# |
| NIGHT 3GB | AF 75 | 7 DAYS | *477*75*1# |
| NIGHT 6GB | AF 199 | 30 DAYS | *477*199*1# |
| Friday 3GB | AF 90 | FRIDAY | *477*90*1# |
| FB 60MB | AF 4 | 24 HOURS | *232*1*1# |
| FB 250MB | AF 15 | 7 DAYS | *232*7*1# |
| FB 800MB | AF 40 | 30 DAYS | *232*2*1# |
| FB 2GB | AF 99 | 30 DAYS | *232*3*1# |
Discover AWCC Internet Packages
AWCC understands that every individual's internet needs are unique. Whether you're a heavy data user, a business professional, or someone who values high-speed browsing, AWCC's internet packages are meticulously crafted to cater to diverse requirements.
1. AWCC Data Plans: Your Gateway to the Digital Realm
Navigate the digital landscape with AWCC's range of data plans. From light users to data enthusiasts, there's a plan for everyone. With the convenience of prepaid and postpaid options, you have the flexibility to choose a plan that aligns with your usage patterns.
2. AWCC Broadband Packages: Unleash the Power of High-Speed Internet
Transform your home into a hub of productivity and entertainment with AWCC's broadband packages. Seamlessly stream HD content, engage in video conferences, and browse with unmatched speed. Experience the future with AWCC's high-speed internet.
3. AWCC Unlimited Internet Plans: Endless Possibilities
Break free from data limitations with AWCC's unlimited internet plans. Enjoy unrestricted browsing, streaming, and downloading without worrying about data caps. With AWCC, the possibilities are limitless.
4. AWCC 4G LTE Plans: Elevate Your Browsing Experience
Experience internet like never before with AWCC's 4G LTE plans. Enjoy faster speeds, smoother streaming, and quicker downloads. Whether you're catching up on your favorite shows or attending virtual meetings, AWCC's 4G LTE has you covered.
5. AWCC Internet Packages for Home and Business: Tailored to Your Needs
Whether you're managing a business or keeping your household connected, AWCC offers internet plans that cater to specific needs. Choose from packages designed for home use or elevate your business operations with dedicated business internet plans.
Navigating the AWCC Experience
1. How to Subscribe to AWCC Internet Packages
Subscribing to AWCC's internet packages is as easy as 1-2-3. Visit our website or use the AWCC mobile app to explore available packages, choose the one that suits you, and follow the simple instructions to subscribe.
2. Checking Your AWCC Data Balance
Keeping track of your data usage is effortless with AWCC. Dial the designated USSD code or log in to your AWCC account to instantly check your data balance and usage details.
3. AWCC Internet Coverage Areas
AWCC's expansive coverage ensures that you stay connected wherever you are. Our network covers a wide range of areas, enabling you to access high-speed internet even in remote locations.
4. Activating 4G LTE on AWCC
Upgrade to the future of internet by activating 4G LTE on your AWCC SIM card. Simply follow the activation process provided on our website and experience lightning-fast browsing.
5. AWCC Data Top-Up Options
Running low on data? AWCC offers convenient data top-up options that allow you to recharge your data balance swiftly. Choose from various top-up denominations and continue surfing without interruption.
Comparing AWCC Postpaid and Prepaid Internet Options
AWCC recognizes that flexibility is key when it comes to internet plans. That's why we offer both postpaid and prepaid options, each with its own set of advantages.
Postpaid Internet Plans: AWCC's postpaid plans are perfect for those who want the convenience of uninterrupted internet access without worrying about recharging. With postpaid plans, you receive a monthly bill based on your usage, and you can enjoy seamless connectivity throughout the month. This is an ideal choice for busy professionals who need to stay connected at all times.
Prepaid Internet Packages: On the other hand, AWCC's prepaid internet packages provide you with the freedom to control your spending and usage. You can choose from a variety of data packages, recharge when needed, and enjoy internet services without any monthly commitments. This option is perfect for individuals who want to manage their budget while staying connected.
Unlocking AWCC's Special Offers
AWCC is committed to providing value to its customers through special offers and promotions.
Business Internet Bundles: AWCC understands that businesses require reliable and high-speed internet to operate efficiently. That's why we offer exclusive business internet bundles designed to meet the demands of modern businesses. Whether it's video conferencing, data sharing, or seamless communication, AWCC's business bundles have you covered.
Night-Time Internet Offers: For those who find themselves browsing more during the night, AWCC introduces night-time internet offers. Enjoy discounted rates and extra data during specified hours, allowing you to make the most of your late-night online activities.
Social Media Data Packages: In the age of social media, AWCC brings you social media data packages that offer data specifically for your favorite social platforms. Stay connected to your friends, family, and the world without worrying about exhausting your main data balance.
Embracing the Future with AWCC
AWCC's Expertise and Commitment
As a pioneering telecom company in Afghanistan, AWCC has been serving its customers with excellence for years. Our team of experts is dedicated to staying at the forefront of technology, ensuring that our customers experience the best in terms of connectivity and service quality.
Secure and Reliable User Experience
At AWCC, your security and privacy are paramount. We utilize the latest technologies to ensure that your online experience is safe and protected. Whether you're browsing, streaming, or conducting transactions, you can trust AWCC to provide a secure online environment.
Customer Support that Cares
Should you ever encounter any issues or have questions about your AWCC internet packages, our dedicated customer support team is here to assist you. Reach out through our helpline, website, or app, and we'll ensure your concerns are addressed promptly.
Frequently Asked Questions
Q1. Are there any unlimited internet offers from AWCC?
Absolutely! AWCC offers a range of unlimited internet plans that provide unrestricted browsing, streaming, and downloading, so you can enjoy the digital world without limits.
Q2. What are the current AWCC data plan rates?
AWCC's data plan rates vary based on the package you choose. Visit our website or app to explore the latest rates and find a plan that suits your needs and budget.
Q3. Can I get AWCC broadband at my home?
Yes, you can! AWCC's broadband packages are designed to bring high-speed internet to your home. Check our coverage areas and choose a package that fits your requirements.
Q4. How can I recharge my AWCC internet balance?
Recharging your AWCC internet balance is simple. Use our app, website, or designated top-up codes to add data to your account and stay connected.
Q5. Are there AWCC data packages available for tourists?
Absolutely! AWCC offers data packages tailored for tourists, allowing them to stay connected during their visit to Afghanistan. Explore our tourist-specific packages for more information.
Q6. Can I buy AWCC internet vouchers online?
Yes, AWCC internet vouchers are available for online purchase. Visit our official website or authorized online retailers to buy vouchers and top up your data balance.
Also Read: Jazz PUBG Package: Daily, Weekly, Monthly
Conclusion: Connecting Dreams, Empowering Lives
In a world driven by connectivity, AWCC stands as a pillar of reliability, innovation, and empowerment. Through a wide range of AWCC internet packages, from data plans to broadband offerings, AWCC caters to diverse needs, ensuring that everyone stays connected to the digital realm. Whether you're a professional, a family, or a business, AWCC's commitment to excellence and seamless connectivity has you covered. Step into a world of limitless possibilities and explore the future of connectivity with AWCC. Experience the power of uninterrupted browsing, streaming, and communication – your path to a brighter and more connected future starts here.