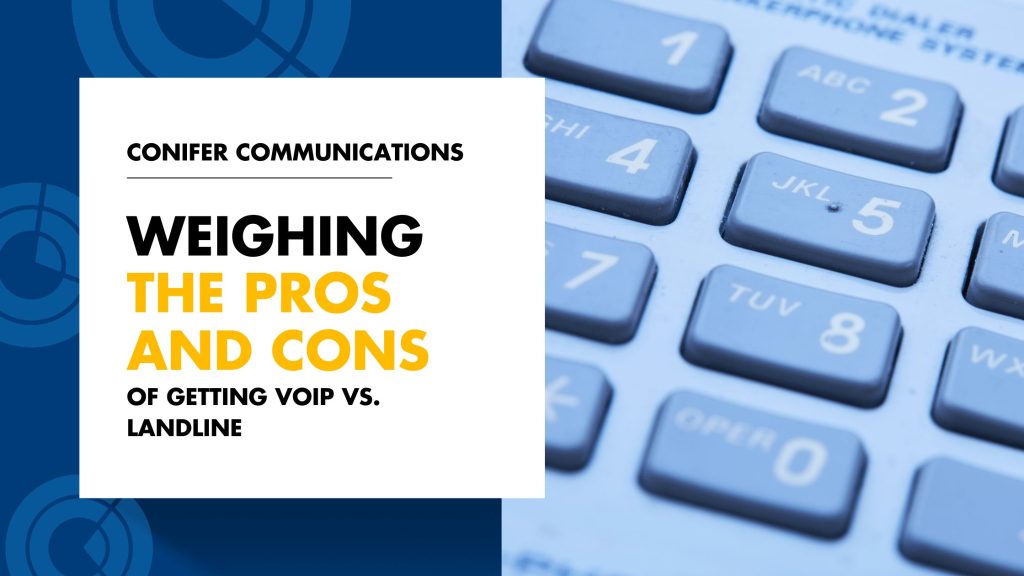 "Does it match up against this?"
We have a lot of options. That's why we always compare them against each other. And this is the smart thing to do, especially when it comes to enterprises. You'll want every investment you make – no matter how small or seemingly inconsequential – to be a success.
And considering that the VoIP tech is relatively new, you probably also want to know how it measures up against the system currently in use. But looking at how Telnum and other providers are supplying VoIP services, it pretty much looks like it's a worthy competitor.
So if you want to learn about VoIP and how it compares to landlines, you're in the right place! Keep reading to find out more.
A quick intro on VoIP
The best way to understand VoIP is to know how landlines work. When you pick up a desk phone, dial a number, and someone on the other end picks it up, the copper wires are the reason why it's all possible. Essentially, they transmit everything in real-time said and translate that into audio. That happens on both ends.
With VoIP, what happens is essentially the same. The main difference is instead of wires, you have the internet to do all the transmitting and translating for you.
And instead of just a real landline, you can actually use your other devices such as your computer or an app on your smartphone.
Head-to-head comparison of landlines and VoIP
Before we can categorically say that VoIP is really the superior option, we should have criteria. So we compared the two based on cost, reliability, flexibility, features, and technology.
Cost (Winner: VoIP)
You'll be surprised to know that VoIP actually does better here. You don't have to shell out tons of money to have your VoIP system as the equipment you have now already is compatible with it – including the desk phones if you have an adapter.
Plus, it's also great for cutting down your spending on international phone costs. As you can get a number abroad sans the presence, you can evade these hefty costs.
Reliability (It's a tie!)
We say there's a tie because there are times that landlines really would work better like when you live in a remote area with no reliable connection.
But under normal circumstances with stable internet, VoIP is the clear winner. Your information is encrypted and stored in multiple data centers so you don't lose anything even with a disaster.
Flexibility (Winner: VoIP)
And this is because of how much you can change with it if you want. You can add or subtract existing phone lines with a few clicks. Plus, you can take it anywhere there's the internet. This makes it super convenient if you have remote staff or employees who aren't always in the office.
A single VoIP number can also be linked to all your gadgets, so you don't have to bring a particular gadget with you all the time.
Features (Winner: VoIP)
There's an endless list of integrations that you can get for your system because providers are constantly working on providing a better experience for their clients.
The best part? You normally get the basic features for free!
Technology (Winner: VoIP)
Landline is extremely limited by the tech it uses. It hasn't been significantly improved on, while VoIP is constantly evolving.
And given how ingrained technology is becoming in our world, you're better off with an option like VoIP that maximizes the use of the latest compatible techs out there.
Is it time for an upgrade?
Now that you know that VoIP is really better, here are a few things you consider just before dropping your landline provider (after paying early termination fees, of course):
You feel that your business is yet to realize the best it can be. And you believe that it's something that can be fixed with a better and more streamlined communication system. If you're thinking this, then you're accepting that landlines really are holding you back.
You or your employees are always not in any of your locations, and you want everyone to still be in contact. By going VoIP, you take your work with you anywhere there's a strong and reliable internet.
You want to tweak your communications system in a snap. You don't have to be stuck with anything that you don't want to use. VoIP lets you scale up or down easily, so your system always works the best for you.
There still is value in landlines today, especially in emergency response and in disasters. But with companies, the only reason VoIP shouldn't be adopted as the new system is a weak internet connection. Because otherwise, you're missing out on a huge opportunity to improve efficiency levels.
So let's go back to the original question: is it really better than landlines? That's a huge yes!